Cloud Network Service
Business Challenge
Customers want to leverage the cost advantages of Broadband in their various locations to provide Internet and VPN connectivity, but they also need the security and performance levels of a private network solution.
Solution Overview
Secure managed Internet Virtual Private Network (VPN) with global coverage. End-to-end managed solution including remote-end routers (IPSec encryption) with DSL, Broadband, Ethernet or Wireless access options. Scalable to suit small-to-large office requirements and support for most common business applications.
Value Proposition
One-stop-shop for Australian domestic and International connectivity. Leverages fibre Broadband to deliver significant cost savings. Zero CAPEX requirement and fixed AUD billing. Backed by a Service Level Guarantee.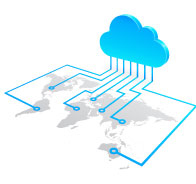 Flexible/Scalable
Economical
Business grade
Optimised IP routing
Global coverage
Managed service