Cloud Desktop Service
Business Challenge
The cost and complexity of deploying and maintaining a consistent enterprise-wide IT platform is a significant burden for businesses. The problem is exacerbated with the increased use of mobile devices such as PCs, tablets and smartphones.
Solution Overview
Cloud based virtual desktop solution supporting Windows, Linux and MacOS clients, including PCs and thin-client devices. Fully compatible with Cloud hosted applications and Software as a Service (SaaS) environments.
Value Proposition
Scalable computing platform that allows you to add or remove users as and when required, with no hardware or software licenses. Scalable utility-based pricing model. Significant savings when compared with the TCO of in-house hardware and software based alternatives.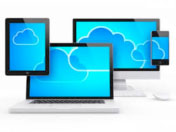 Economical
Flexible/Scalable
Client device flexibility
Instant provisioning
Windows, Mac, Linux
Management dashboard
Global coverage